Get the Credit You Deserve while Renting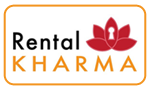 Over 100 Million Americans either struggle with their credit or have no credit and are denied access to traditional financial products.  This is a huge problem and we can provide YOU with a sustainable and simple way as renters to establish and build credit history through your largest monthly payment, RENT!  You pay a small monthly fee, your landlord or property manager reports and it does not cost them anything.  


 
100% Money Back Guarantee 
 No Contract
Cancel Anytime
 

Registration Fee
Individual renter = one time registration fee =
$2

5
Individual renter & spouse/roommate =
$50
Monthly ongoing rent reporting
The monthly fee for ongoing reporting will start
60
days after signup.
Individual renter =
$4.95 per month
Individual renter with spouse/roommate =
$6.95 per month
Past Reporting Option
$5 per month up to 24 months
For example, 1 year $60 or 2 years $120


Easy payment options available
​
*****REPORTING TO TRANSUNION ONLY AT THIS TIME*****
Rental Kharma allows you to have your rental payment history submitted to TransUnion. Your landlord or property manager confirms your payments each month in a quick and easy process. You can even use it if you split the rent but only your portion that you pay gets reported. If you're worried about how future late payments might affect your credit, they actually won't unless you're more than 30 days late. That's because any rent payment within 30 days of the due date is considered on time.  Once again, Rental Kharma ONLY report to TransUnion!
Landlords & Property Managers:
Give your renters the credit they deserve.  You simple report their monthly payments.  You pay nothing to report.  Rent will be counted as a open trade line on a credit report. Landlords  and Property Manaagers cannot report rent payments themselves unless they have thousands of units and complete extensive compliance procedures with the credit bureaus. A neutral, third party verification service gives you the ability to submit rent payments to the credit bureaus without taking on additional work.